The Red Shoes: Next Step
A complete electronic/acoustic/orchestral Score, Music Editing for over 7 featured classical pieces and an 11 Song Soundtrack written in accordance with the script and characters featuring established Sydney Artists and Session Musicians as well as our own in house Alias's.
 Written by Zachary Layner, John Banas, and Peter McLeod, The Red Shoes: Next Step follows dancer Sam Cavanaugh (Juliet Doherty), who experiences a family tragedy prior to dancing the lead in 'The Red Shoes' ballet, leading her to quit dancing academy. 
After running wild with her friend Eve (Lauren Esposito), Cavanaugh is forced to spend time at the academy as part of a community service sentence and is eventually given the opportunity to once again participate in the performance.
Starring: Juliet Doherty, Lauren Esposito, Carolyn Bock
Directed by: Jesse Ahern, Joanne Samuel
Screenwriter: Zachary Layner, John Banas, Peter McLeod
Producer: Tanya Esposito
Original Songs and Score written and produced by Dominic Cabusi and Bronte Maree O'Neill, with Original songs performed by the duo's alias' 'herana', 'Neon Phantoms' & 'puffpuffjigglypuff' featuring various Australian vocalists & artists.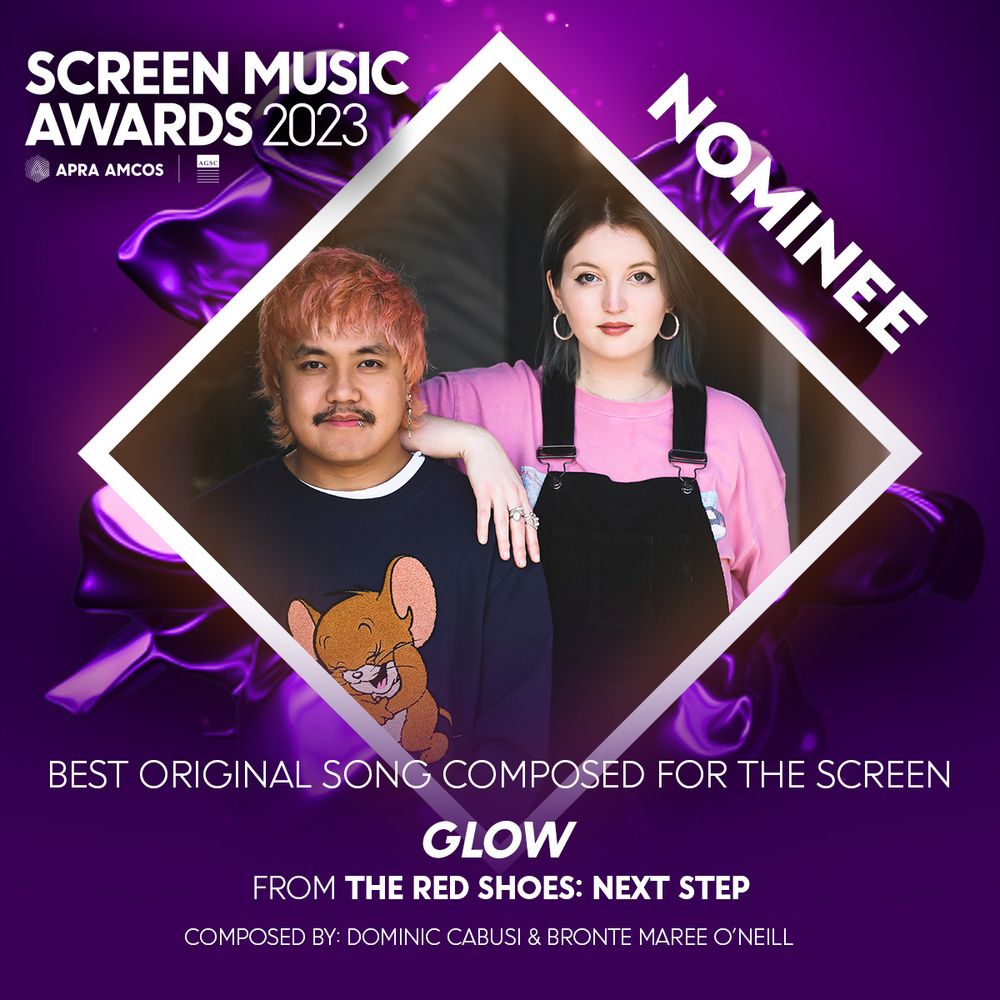 APRA AMCOS
Screen music awards 2023
We are lost for words. We are so unbelievably honoured and thrilled to announce that our song 'Glow' from 'The Red Shoes: Next Step' has been nominated for an APRA AMCOS Screen Music Award in the category 'Best Original Song Composed For The Screen'.
To say this is a dream come true for us is an understatement, and to be in the running for this award alongside @timminchin, @damienmlane, @jodiphillis, @mrbenjaminspeed and @leigh.marsh makes the fruit that much sweeter.
A huge congrats and shoutout to the incredible team at @theredshoes_nextstep for having us on this beautiful film and to every single magic maker behind making this scene an absolute dream!
And finally a big thank you to @apraamcos @australianguildscreencomposers for the nomination.
Looking forward to attending the ceremony in Melbourne and celebrating this achievement with everyone in November. Wish us luck!
The Red Shoes: Next Step (Original Motion Picture Soundtrack)